For many travelers a long layover means a bonus opportunity to explore another city along the way. Istanbul with its many gorgeous historical landmarks and scrumptious cuisine makes the temptation to get out there even greater. So that you are not unwisely drawn by her siren song in too short a time period, here are some factors you must first consider. Atatürk International is the 9th busiest airport in the world. In order to leave the airport you must first clear passport control and customs, which depending on the time of day or night and the number of planes arriving you may have a bit of a wait. Depending on your nationality you will most likely need to buy a visa, this must be done online here before you arrive. One time saver is to check your bags through to your final destination, and of course have your boarding pass for the next leg of your journey. The next consideration is traffic. Istanbul is famous for it. Depending on the time of day it can take 40 minutes or 3 hours to get to the city center. This is not a risk I would feel confident in taking unless your layover is quite long. Taking the metro and tram to the historical city center, Sultanahmet or the pedestrian area of Taksim will take a little over an hour with good connections. Upon returning to the airport (recommended 2 hours before your flight) you will have to pass through 2 security x-ray checkpoints which will require you to queue. You will want to give yourself at least 30 minutes to get through those lines. IF after all of these factors are taken into consideration and you still feel you have enough time, here are some recommendations.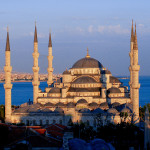 Old City-Historical Peninsula-Sultanahmet
You will want to get some Turkish Lira from an ATM in the lobby of the airport, taxis don't take credit cards and while you could probably use Euro or Dollar in tourist locations you most likely wouldn't get an accurate exchange. If you are travelling by metro buy some tokens called jeton, I would recommend buying your return jetons at that time in the interest of convenience. Take the metro heading towards Zeytinburnu and exit at that stop. Transfer (you must use another jeton) to the T1 Bağcilar-Kabataş tramway you will head towards Kabataş. If shopping is your wish get off at the Beyazıt stop and walk to the Grand Bazaar, this is one of the largest covered bazaars in the world with over 4000 shops. It is a shoppers paradise, be prepared to hagel. The Grand Bazaar is closed on Sunday.
For the Old City you will want to get off at Sultanahmet where you will be able to tour the world famous Hagia Sophia (Saint Sophia) museum, Blue Mosque (Sultanahmet Mosque), the Hippodrome, Basilica Cistern and if time allows the Yeni Mosque (New Mosque) and the Spice Bazaar (Egyptian or Mısır Bazaar). This may seem like a lot, but it is surprising how much you can take in during a short period of time in this area. Everything is very close together. So, depending on lines or if just taking in the view from the outside is enough, this tour can realistically be done in a 2-3 hours. Topkapı Palace is on the same historical peninsula however a tour including the Harem would take 5 hours of your time and not an option for a layover.
Where to eat
If you are near the Grand Bazaar don't miss the opportunity to sample dishes from the Turkish-Ottoman kitchen prepared at Havuzlu. Old City options are varied. If you arrive in time for breakfast you would be remiss not to experience the Turkish breakfast served at Cafe Mese. For a lighter breakfast one has to look no further than Çiğdem Pastanesi for their renowned selection of delectable sweet and savory pastries. For lunch or dinner the area is full of fish restaurants offering a very similar menu. It's important to ask the price if it isn't listed, especially if you order fish. You don't want any surprises when the check comes. This is a lively area in the evening usually bustling with tourists and some locals alike. One standout among these restaurants is a place I have taken my own visitors several times called Mozaik. It is Turkish cuisine done nicely, alcohol is served. For a great meal and an amazing view of the Golden Horn and the Old City locals and visitors prefer Hamdi. Kebabs and southern Turkish cuisine is up for offer. Alcohol is served.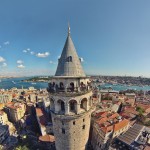 Galata Bridge-Galata Tower-Karaköy
Take the T1 tramline to the Karaköy stop. From there you will have several options. Galata Bridge is a popular location to drink tea or beer and watch the busy waterway. It is lined with fish restaurants which become lively music venues every night. If it is fish you are craving try a balık ekmek– fish sandwich being prepared at the base of the bridge. They are a very popular street food item.
Karaköy is a trendy neighborhood which has transformed into a hipster destination. If you have time take a walk around and dine at one of the many new restaurants popping up. A standard classic however is Namlı Gurme for breakfast lunch or dinner. And while you are in the area stop next door to Karaköy Güllüoğlu for some of their world famous baklava.
To get to Galata Tower you have the option to walk from the Karaköy tram stop or take the second oldest underground railway in the world, the Tunel funicular (you will need a separate jeton). It will take you on a short ride to Istiklal street the popular pedestrian walkway. Follow the signs to Galata Tower and take a ride to the top. The 360 degree view is spectacular.Touring the Old City and visiting Galata Tower with a bite to eat in the middle could reasonably be done in 6 hours.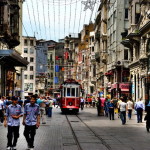 Taksim Square-Cihangir
To get to Taksim Square you have a few options. Of course you can take a taxi, you can take the metro, transfer at Zeytinburnu to the T1 tramway line heading towards Kabataş. Exit at the last stop, Kabataş. From there follow signs to the F1 Taksim-Kabataş funicular. Grab a ride and you will quickly be there.
Another option getting to and from the airport and Taksim is Havataş. This is the airport shuttle service and it is excellent and reliable. Check their website for hours. Havataş will drop you off at the far end of Taksim square and across from Gezi Park. Taksim Square and its pedestrian walkway Istiklal Caddesi (Istiklal avenue) are good for exactly two things. Shopping and drinking. If you are interested in shopping at international chains you have come to the right place. If you would like to have a beer and listen to, at times, questionable live music, you have arrived. Taksim is the biggest nightlife scene in Istanbul. The small streets off of Istiklal are full of small bars and music venues. I would recommend heading to the Balık pazarı or fish bazaar street. It has the best street food and the most legitimate drinking establishments. For an amazing view I would recommend Balkon Restaurant. Just be careful not to overdo it, you still have a plane to catch!
Just off Taksim square rests the artsy Cihangir neighborhood. It is full of coffee shops, antique shops, art galleries, bars and trendy restaurants. Residing there is an eclectic crowd of artists, musicians, actors and expats. For something to eat head to Kahve6, a charming little restaurant with a nice garden and a laid back atmosphere. If you are interested in people watching and taking in the scene, sip a tea at the most Cihangir of establishments, Cihangir Kahvehanesi , it is the place to sit, see and be seen.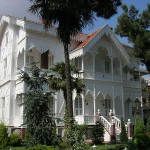 Yeşilköy-Florya
If you want to leave the airport but don't want to take a trip to the city center, a really great option is Yeşilköy, just a 10 minute cab ride from the airport. Yeşilköy literally translates to green village, it sits on the coast of the Marmara Sea. You can view the Art Nouveau architecture of some of the remaining historical wooden homes, walk the sandy beaches or stop in at the small waterfront museum. If you are feeling hungry, head to Hikmet a local favorite.
Fans of Turkey's father and founder Mustafa Kemal Atatürk will be interested to visit his summer residence, the incredibly cool  Florya Atatürk Marine Mansion which was built in 1935 and sits offshore in the Sea of Marmara. Another aquatic gem is the world class Istanbul Aquarium which boasts 15,000 land and sea creatures. For food, without a doubt Beyti is the most famous and long standing restaurant in the area, serving kebabs since 1945.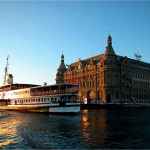 Sabiha Gökçen Airport-Kadiköy-Moda
If you are flying into Sabiha Gökçen you will have a much less crowded airport experience. However, it is located on the Asian continent part of the city. Distance from the sites makes it a bit more difficult to take in the attractions. Luckily, Havataş that fantastic and reliable shuttle service will take you to and from both Taksim and the Kadiköy the bustling Anatolian neighborhood.
Kadiköy's greatest feature is its location on the Bosphorus. There are miles of coastline on which you can walk or drink tea and it offers a spectacular view of the Old City skyline across the way. Locals utilize it for running, biking, fishing and even swimming during the summer months. Kadiköy is also home to a wonderful pedestrian market and there are many great food tours based around it.
If you don't have time for a tour simply walk around and take in all of the smells, sights, sounds and flavors of Istanbul. Sit for a Turkish coffee and nibble on a Turkish sweet at one of the many coffee shops in the area. If you are hungry, Yanyalı Fehmi Lokantası is a local favorite. They are known for their lamb dishes but have a wide selection of Turkish and Ottoman dishes that won't break the bank. Art lovers may wish to walk the small streets around Moda Caddesi (Moda Avenue) exploring the small studios of local artists and artisans.
Bağdat Caddesi (Bağdat Avenue) is known for its high end shopping, its cafes and its numerous coffee shops. It is also a nice location to people watch.  In the evening participate in the Turkish tradition of rakı balık at Benusen. Rakı is the Turkish national adult beverage nicknamed 'lions milk' because of course all Turks are lions and rakı turns a milky shade of white when water is added. Balık as previously noted is the word for fish in Turkish, said together it is understood you are in for a treat. Mezzes, cheese, fish, and fruit are all served to complement the rakı. After an evening at Benusen, you may never want to leave. Lastly, architect lovers may wish to take a taxi to the Beylerbeyi Sarayı (Beylerbeyi Palace). This palace was a summer home Ottoman summer retreat completed in 1865. Because the Anatolian side of Istanbul is more modern, it would be a nice way to get a feel for the age and history of the region.