Everyone knows travel can come with some glitches, even on the best of trips. Add children and those glitches can multiply. Which is why Istanbul and Turkey in general is a breath of fresh air for travellers with kids. Turks are enamored with children, it's a beautiful part of the Turkish culture, children are openly cherished. Which is why when considering a dining experience in Istanbul it would be almost impossible to make a list of kid friendly restaurants, the list would simply be too long. Children are welcomed and accommodated in virtually all restaurants, except perhaps the very high end dining. And most likely will receive lots of attention from the staff and possibly patrons alike. With this knowledge in hand choosing a restaurant should not be a stressful experience. But to help you along I have compiled a list of some local favorites that are both kid friendly and that the children should enjoy.
Fotini Cafe / Arnavutkoy (Bosphorus)
Take a stroll along the Bosphorus and admire the gorgeous wooden Ottoman mansions for which Arnavutköy is famous. There you will find a charming cafe which provides a warm and peaceful environment where parents may relax and unwind. While parents take a break from the day the children can play in the cafe's playroom. With toys, a slide and art supplies plus more children should be content to pass some time.
Anonim Türk Bistro / Kurucesme (Bosphorus)
For an upscale dining experience one has to look no further than Anonim. Nestled in a rare urban green space the outdoor seating provides beautiful views of nature as well as a spectacular view of the Bosphorus Bridge. The menu is a representation of Anatolian cuisine and children and adults alike will enjoy the homemade ice cream. While mom and dad dine in peace the children can romp in the playroom equipped with a ball pool!
Happy Moons Cafe / Kadikoy (Asian Side)
This restaurant has 3 locations but the crowned jewel is most certainly the Kalamış Marina location in Kadiköy. Located in a beautiful mansion there is both ample indoor seating as well as garden dining for fair weather. The menu is large and based on Western cuisine with the children's menu having each selection represented by a cartoon character. The children can order by telling the waiter which character they would like to try.
Çanak Kebap & Katmer / Kadikoy  (Asian Side)
Serving 2 locations in Kadiköy this is not your standard kebab house. Çanak prides itself on serving high quality and delicious mezes and various meat preparations. Diners must be sure to try the katmer, a Gaziantep layered and fried flat bread which can be served both savory and sweet. Children of all ages will be entertained in the amazing activity room. The small children can draw and play games while the older children can utilize the tablet stations or play a game of foosball. They may never want to leave!
Doy Doy Restaurant / Sultanahmet
Take a break from touring Sultanahmet and grab a bite to eat at Doy Doy. Doy which means full is what you will be after you finish dining on their classic Turkish fare. Various kebabs including vegetarian are available as well as pide, which is essentially Turkish pizza. You can't go wrong with children and pide. Located behind the Blue Mosque, the terrace provides a spectacular view, especially at night when the mosque is all lit up.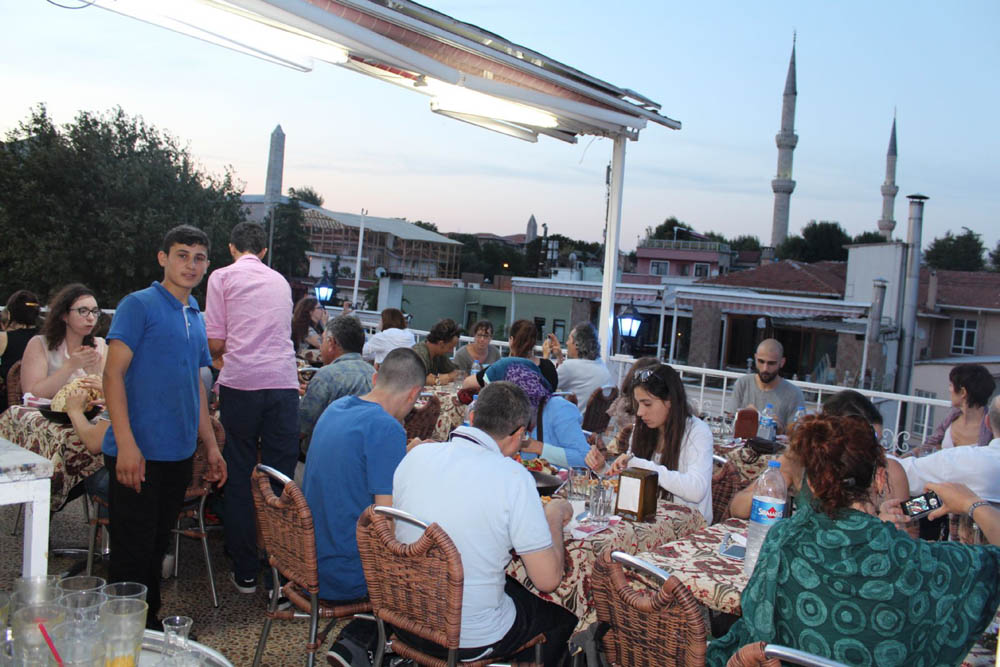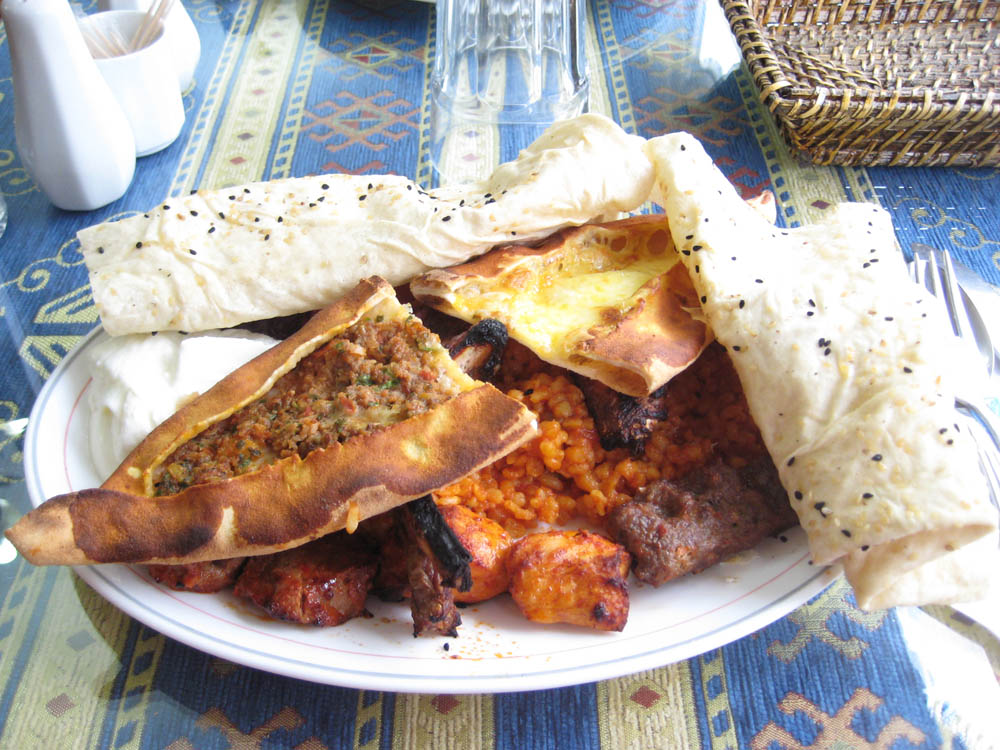 Pierre Loti Cafe / Golden Horn
While not exactly a restaurant due to it's very limited menu, Pierre Loti Cafe gets an honorable mention due to its amazing views. After visiting the Eyüp Sultan Mosque, take the teleferik (cable car) to the top to admire the panoramic view of the Golden Horn. Sip a tea or coffee and if you wish snack on a grilled toast or gözleme, a type of Turkish flat bread. You can walk or take the teleferik back down. I would not recommend coming on the weekends as it's far too crowded.